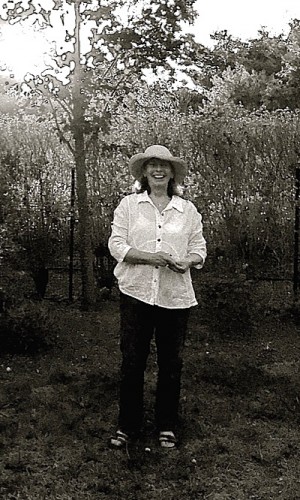 Barbara Hughey is a land stewardship designer and project manager working with private and institutional clients to realize their goals for enhancing the beauty, productivity, health and biodiversity of their landscapes. She has forty years of experience working as a plant professional, much of that focused on sustainable restored landscapes.
She is a native of the Hudson Valley where she has worked and lived for most of her life. For a time she also lived in the Pacific North West where she owned and operated a solar powered, certified organic seed farm that supplied high quality seed to two separate national seed companies. This was built on other agricultural work experience.
From 2008 through 2013 she served as a Board member, as well as an Executive and Riparian Committee member for the Applegate Partnership and Watershed Council, which works to identify and carry out watershed wide restoration projects, and to codify environmental policy in concert with local and federal government agencies. She authored a riparian action plan for the twenty three thousand acre watershed where her farm was located. This laid the foundation for miles of stream reach bio engineering and native plant restoration funded through salmon habitat enhancement opportunities.
She holds a degree from Cornell in Soil Science, Agronomy and Soil and Water Conservation; obtained an Advance Certificate in Herbology, completed the Bio Diversity Assessment Training through Hudsonia; attended Land Use Planning courses through Pace Law School; as well as continuing field botany and other related subjects.
She has been a member of several local and regional environmental boards and committees, currently including the Education and Outreach Committee of the Capital Mohawk Partnership for Regional Invasives Species Management.